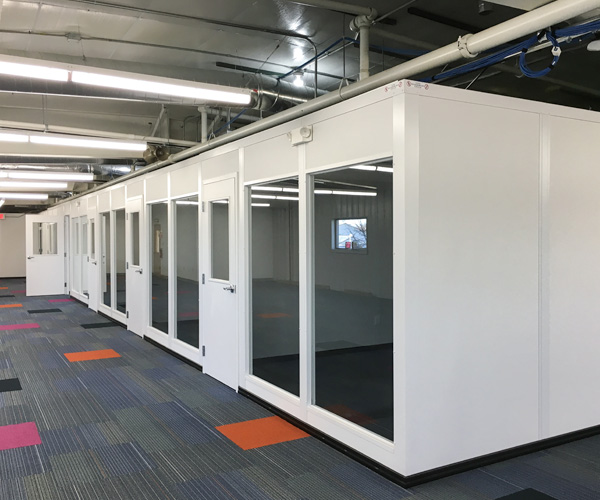 Generally, the partitions look boring, plain cubicles that give you the feeling of a depressing and gloomy environment when you enter the office. But office wall partitions can make an office significantly a better and more pleasing place if used correctly. Intelligently erected office walls not only offer a better environment for employees to interact with each other but also provide quality divination of the existing workspace. There are a variety of office wall partitions available and that too in various materials to cater to all types of offices.
Office wall partitions can also be advantageous and many people do not even think about it. Following are a few reasons explaining how these partitions can be advantageous if built effectively:
Noise Reduction and Increased Privacy: Wall partitions help a lot in the reduction of voice by minimizing external disturbances especially if the partitions are up to the full length. It becomes very useful for a person who has to attend continuous meetings or has to spend a good time on the phone. These partitions work well when it comes to privacy in an otherwise open office. The separate sections help in building individual spaces within the office for the employees. This way staff is not distracted by activities going around and can focus on their work in a professional manner.
Improved Aesthetic Appeal: Gone are the days when office partitions used to look dull with grey or other drab colors. Well-designed office walls actually can help in changing the overall aesthetic appeal of the office creating a unique style. You can get custom-made-partitions with a wide range of colors, styles, finishes, materials, and even sizes. The height of the office wall can be selected according to your requirement – from floor to ceiling or up to desired height. Even if you want to give a new look to your office, you can go with these wall partitions and give your office a modern look. Actually, you can make your office look more attractive with the new wall partitions.
Economic: If you want to go for office wall partitions made with different materials such as aluminum, glass partition, glass dividers, etc. you will find they are far more economic compared to fixed concrete or wooden walls. It is a better alternative as you can change the measurement of the cubicles according to your needs which is not possible with building permanent walls. If you see the practicality of these partitions, you will find they are easier to rearrange the expansions or contractions when you only need to change the temporary walls.
More Natural Light: Glass wall partitions have proved an excellent choice for those who know the importance of natural light. They not only offer the office employees a positive feel but also help in keeping the energy bills lower. With glass partitions as an alternative to permanent walls, you can make your office look more spacious and attractive to your clients. These partitions are easier to clean or you will be saving money when you go for refurbishing the partitions.
If you are also considering installing office wall partitions, you can contact Ultimate Chippy, a company expert in office renovations and designing.